How do I know my size?
If you waver with the size, you can check the sizing chart below. Please take into account that the measurement on the sizing chart are the measurement from our shoes:
The length has been measured inside the shoes, so, you can know the real space you have for your feet.
The width has been measured on the outside sole, because the leather is quite soft and will stretches after a while of use of the shoes.
Example:
If you are woman and your feet have 24cm long, then, your size in heels would be 38 at least, not 37.
If you are man and your feet have 28cm long, then your size would be 43 at least, because 42 has the same measurement than your feet, it means that your toes will touch the top of the shoes and that can hurt you after a while of use.
How to measure your feet?
Place a sheet of paper on the floor, touching the wall. Situate your foot with your heel resting against the wall. Mark vertically on the sheet (you can help with a rule) to where the longest finger reaches (which does not have to be the big toe). Measure the resulting distance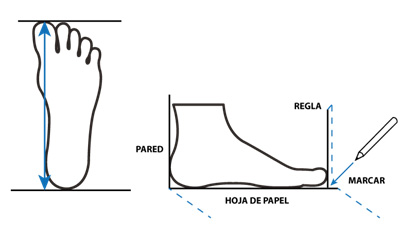 EU SIZES

 

MODEL:

Basic, Blucher, Cap Toe, Cap Toe boot, Charleston, Derby, Derby Trenzado, Derby Trepic

Tomy Zap, Tomy boots

 

LONG (cm)

WIDE (cm)

CONTOUR (cm)

LONG (cm)

WIDE (cm)

CONTOUR (cm)

39

25,5

9,5

22,2

 

 

22,9

40

26

9,5

22,5

26,9

10

23,2

41

27

10

22,8

27,4

10,5

23,5

42

28

10

23,1

27,9

10,5

23,8

43

28,5

10

23,5

28,7

10,7

24,1

44

29

10,2

23,8

29,4

11

24,4

45

30

10,5

24,1

30

11

24,7

46

30,5

10,5

24,4

 

 

25
EU SIZES

Ava, Ella, Betty, Carol, Carla, Eva, Joana, Nuria, Susan, New Lauren, Lauren, Betty

Alice, Anita, Charleston, Derby Hex, Derby Trenzado, Mónica, Tona, Oasis, Isla, Cap Toe, Nora

Frida, Loreto, Rita, Sofia

Alice Plus, Tona Plus, Cap Toe Plus, Anita Plus, Charleston Plus

Eva Plus, Nuria Plus, Carla Plus, Ella Plus, Ava Plus

 

LONG (cm)

WIDE (cm)

CONTOUR (cm)

LONG (cm)

WIDE (cm)

CONTOUR (cm)

LONG (cm)

WIDE (cm)

CONTOUR (cm)

LONG (cm)

WIDE (cm)

CONTOUR (cm)

LONG (cm)

WIDE (cm)

CONTOUR (cm)

35

22,7

7,9

20

23,5

8,4

19,9

23,2

8,3

20,5

23,6

8,8

21,7

23

8

21,5

36

23

8

20,3

24

8,5

20,2

23,8

8,4

20,8

24

9

22

24

8

21,9

37

23,5

8

20,6

24,6

8,7

20,5

24,7

8,6

21,1

25

9,2

22,3

24,5

8,3

22,2

38

24,5

8,2

20,9

25,5

8,8

20,8

25,3

8,8

21,4

25,5

9,4

22,6

25

8,4

22,5

39

25

8,5

21,2

26

9

21,1

25,8

9

21,7

26,5

9,5

22,9

25,5

8,5

22,8

40

25,5

8,5

21,6

26,7

9,1

21,4

26,3

9,2

22,1

27

9,7

23,2

26,5

8,8

23,2

41

26,5

8,6

21,8

27,5

9,3

21,7

27,1

9,4

22,4

27,5

9,8

23,5

27

9

23,5

42

27,5

8,8

22,1

28

9,5

22

27,7

9,6

22,7

28

10

23,8

27,8

9,2

23,8

HEIGHT HEEL

5

1,5

4

2,5

5